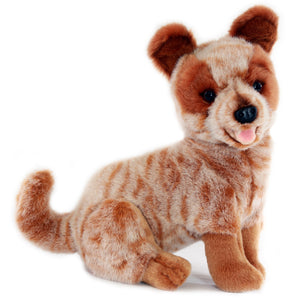 Bocchetta Plush Toys
BLAZE | RED CATTLE DOG
Regular price
$31.00
$0.00
Unit price
per
The stuffing for Blaze was made using 12 recycled plastic bottles 🐬🐠
Blaze is a really cute realistic handmade sitting red Australian Cattle Dog plushie, Red Heeler stuffed plush dog.
The Red Australian Cattle Dog is called a Red Heeler. We are a wonderful herder, bred to withstand the Australian Outback and to nip at the heels of cattle.  Although we are very active working dogs, they love children and lots of cuddles.
Blaze measures 22cm/9″ from the ground to the top of the head and 25cm/10″ from the nose to the end of the tail.
May be claimed under 0103 Assistive Products for Personal Care and Safety (Code# 03-040000919-0103-1-1) or 0112 Assistive Equipment for Recreation.
Excellent gift for the lover of Australian Cattle Dogs
Great mascot or corporate gift
Favourite for Agricultural events
Made using the highest quality acrylic fur
Made using 100% recycled stuffing
Eco-friendly
Ocean-conscious
Machine washable using chemical/soap-free cleaning agent
Suitable for ages 3+
Part of the Bocchetta Plush Toys' "Dogs", "Red Heelers" and "Australian Working Dogs" Soft Toy Collections.
---