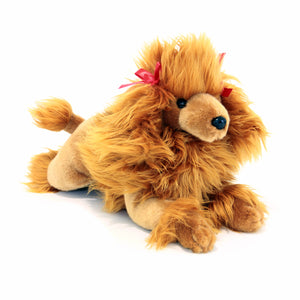 Bocchetta Plush Toys
JULIET | BROWN POODLE
Regular price
$26.00
$0.00
Unit price
per
Juliet is a really cute realistic brown Poodle puppy plush toy.
Poodles are one of the smartest breeds, second only to the border collie in rankings of canine intelligence. Their distinctive haircuts evolved from the days that they were used as hunting dogs. Hunters would strategically shear their hair, as too much wet fur would weigh them down, leaving some areas long to protect them from cold waters.
Juliet 30cm/12″ in length, 13cm/5″ in height (to the top of his head) and 13cm/5″ in width.
May be claimed under 0103 Assistive Products for Personal Care and Safety (Code# 03-040000919-0103-1-1) or 0112 Assistive Equipment for Recreation.
Excellent gift for the lover of the poodle
Wonderful comfort toy for a small being
Excellent gift – perfect for a gift basket or as a stocking filler
Comfort therapy toy for patients with Dementia
Perfect companion for lonely seniors and residents in aged care.
Lifelike replacement for a pet that has been lost
Substitute emotional support animal providing comfort for people suffering from stress, anxiety, depression, PTSD, Autism and other mental health challenges.
Cutest puppy plush selection – collect them all
Can be brushed using a regular pet brush
Made using highest quality acrylic fur
Machine washable using chemical/soap free cleaning agent
Suitable for ages 3+
Part of the Bocchetta Plush Toys' "Poodles", "puppies" and "Dogs" Soft Toy Collections.
---