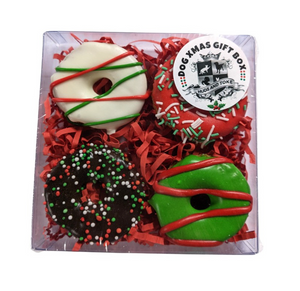 Huds & Toke
XMAS DOGGY DONUTS GIFT BOX 4PCE
Regular price
$11.00
$0.00
Unit price
per
Wondering what to get your fur family as a special gift for Christmas and to let them know that you love them!! 
Look no further!!
We now have the CUTEST little Christmas gift boxes available for you - the Best Puppy Present!!
They even have a joke just like a real Christmas Cracker and a Christmas Gift Sticker on the front ready for the Christmas Tree.
With a classic mix of our beautifully hand decorated nutty based cookies - 100% Natural.
Each Box has a mix of 4 Little Christmas Donuts
- NO Preservatives
- Made with Australian Produce.
- 100% Naturally Australian Made with LOVE.
- No Added Sugar or Salt
- Low Fat
NO NASTIES!!!
The cookies are baked hard deliberately so our furry friends take that bit longer to nibble and provides great dental benefits yet remains highly nutricious and digestable.
Ingredients - Whole Wheat Flour, Peanut Butter, Whole Egg, Apple Cider Vinegar, Canola Oil, Yoghurt Powder (Low Fat), Tapioca Starch, Guar Gum, Carob, Colours, Sprinkles.
Please note that product decorations may differ from the pictures as each box is different.
Box Size = 11cm x 11cm x 2cm
---