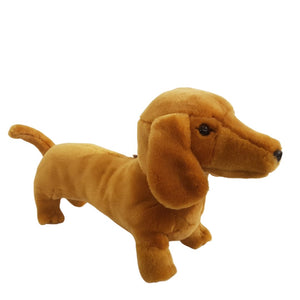 Bocchetta Plush Toys
Sadie - Red Dachshund
Regular price
$25.00
$0.00
Unit price
per
The stuffing for Sadie was made using 2 recycled plastic bottles 🐬🐠
Sadie is a realistic plush red dachshund dog toy in a standing position.
Dachshunds were bred 300 years ago in Germany to hunt badgers. The name Dachshund literally means "badger" (dachs) and "dog" (hund).  They are also called Weiner or Sausage Dogs and the actual hot dog was named after them.  The first Olympic Mascot was a Daschund.
Stretch measures 22cm/8.7″ in height 37cm/14.6″ in lengtha and 13cm/5.1″ in width.
Excellent gift and mascot for the dachshund lover
Made using the highest quality acrylic fur
Machine washable using chemical/soap-free cleaning agent
Suitable for ages 3+
Shipping weight – 0.22 kg
Barcode #  – 8993462119637
Part of the Bocchetta Plush Toys' "Dogs" and "Dachshund" Soft Toy Collections.
---