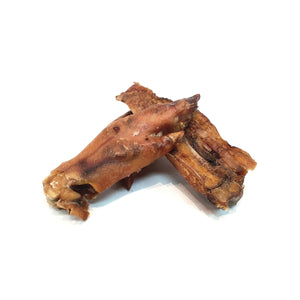 U-CHEWS
PORK TROTTERS 1/2
Regular price
$4.00
$0.00
Unit price
per
U-Chews Pork Trotter Halves are a great treat to keep your dog occupied. As the foot of the pig, Pork Trotters contain skin, fat, bones, cartilage, ligaments and tendons, making them a good all-round treat to keep your small to medium dog occupied for some time.  For this reason, Pork Trotter Halves are also great at maintaining dental hygiene.
High in calories – great treat for growing pups.
Lasting treat for small to medium dogs
Great for maintaining oral hygiene
No fillers, additives or preservatives
Made from 100% Australian produce
For larger dogs and tougher chewers, we recommend Kangaroo Femur Bones or Kangaroo Lumbar Chunks.
For smaller/softer chewers, try our Australian Pig Ears or Crocodile Feet.
**U-Chews treats are dehydrated, not smoked or cooked, meaning the bones crunch up like a raw bone, making them safe to consume.**
---