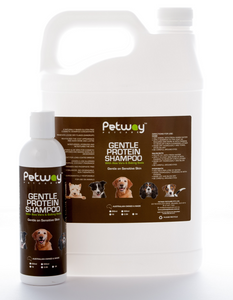 Petway
GENTLE PROTEIN SHAMPOO
Regular price
$13.00
$0.00
Unit price
per
Petway Petcare GENTLE PROTEIN SHAMPOO with Aloe Vera & Baking Soda a naturally based, gluten free, cosmetic shampoo concentrate. Great for use on animals with sensitive skin. Also an ideal shampoo for drop coat breeds. It contains a natural protein to moisturise, hydrate and retexture the skin and Baking Soda as a deodoriser to eliminate doggy smells and Aloe Vera for cosmetic purposes. Safe for use on animals with sensitive skin. It removes loose dry flakes (dandruff), revitalises the coat appearance and adds shine and lustre.  It thoroughly cleanses the coat and skin and leaves a low allergen tropical coconut fragrance. Companion product to Petway Petcare Gentle Protein Conditioner and Petway Petcare Coconut Coat Gloss Cologne.
More Information:
For use on animals with sensitive skin
Concentrated formula
Formulated using pure deionised water
Naturally based
pH balanced
Soap Free
Free of phosphates, parabens and enzymes
Low Allergen fragrance
Bio-degradable
Environmentally responsible
Not tested on animals
Directions for use:
Home
Shake well before use;
Wet animal with fresh water;
Apply shampoo to the coat, as required and work in thoroughly with fingers to develop a rich, cleansing lather;
Rinse off thoroughly;
Towel or blow dry;
Brush/comb coat;
Be careful around eyes.
---