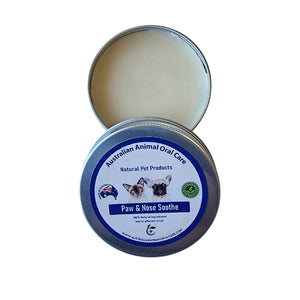 Australian Animal Oral Care
PAW & NOSE SOOTHE
Regular price
$11.00
$0.00
Unit price
per
Paw & Nose Soothe
Pawfect for Dry noses, skin and paws
Australian Animal Oral Care's Natural Balm is made with:
Organic Shea Butter, Organic Bees Wax, Hemp Oil, Coconut Oil, Olive Oil, Vitamin E, Flaxseed Oil, Lavender & Calendula flower Oil.
Coconut Oil is fabulous for hydrating dry skin whilst helping relieve skin problems and helping heal them up a natural Antiseptic 
Hemp oil is a true super food that works wonders for inflammation and skin allergies.
Beeswax offers extra hydration and protection, whilst helping to heal cuts, chaffing and cracks.
Shea Butter helps soften, hydrate and soothe skin.
Vitamin E Oil helps heal dry, itchy and flaky skin.
Lavender Essential Oil calms and soothes the skin and is great for soothing anxious pups. 
Calendula has Natural Antiseptic properties
50gm  
Use Daily on nose and paw pads until dry skin improves, then use weekly to maintain.
Use very sparingly as a little goes along way.
Wholesale prices available for Dog Grooming & Pet Businesses 
Enquire with us via our Wholesale Page here
Disclaimer
AAOC can not diagnose your companions disease or illness. What they can do is offer various natural products to assist with healing, after you have had advice from your local Veterinarian.  
Australian Animal Oral Care acknowledges Traditional Owners of Country throughout Australia and recognises the continuing connection to lands, waters and communities. We pay our respect to Aboriginal and Torres Strait Islander cultures; and to Elders past, present and emerging
---