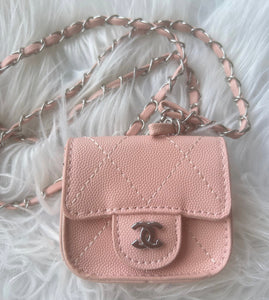 Nicole & Baby
CHEWNEL DOG PURSE
Regular price
$27.00
$0.00
Unit price
per
Introducing the Ultimate Accessory for Your Furry Fashionista: The Chewnel Dog Bum Bag Purse
Your pup's style knows no bounds, and now, they can flaunt their fabulous flair with the Chewnel Dog Bum Bag Purse. This chic and playful accessory is designed to make your furry friend the talk of the town, all while keeping their essentials close at paw.
Adorned in a stunning range of colours, this Chewnel-inspired dog bum bag purse is the perfect blend of high fashion and four-legged fun. Crafted with meticulous attention to detail, it's not just an accessory; it's a statement of impeccable style.
Nicole & Baby's Chewnel Dog Bum Bag Purse combines fashion with practicality, allowing your pet to strut their stuff with confidence. This stylish purse is equipped with:
Spacious Compartment: Plenty of room for your pet's treats, toys, and even a small water bowl.
Adjustable Strap: A comfortable fit for pets of all sizes.
Secure Closure: Your pup's treasures are safe and sound, no matter how much they prance and play.
Imagine your four-legged friend strutting their stuff with the Pink Chewnel Dog Bum Bag Purse, turning every park visit into a mini fashion show. With this accessory, your pet will be ready for impromptu photoshoots and charming encounters with fellow pet parents.
We take pride in delivering exceptional quality for your beloved pets. Our Pink Chewnel Dog Bum Bag Purse is not only stylish but also durable, ensuring it can withstand the adventures and playdates your pet embarks on.
Your pet's style is an extension of your love and care. Make a statement with the Chewnel Dog Bum Bag Purse, a charming and playful accessory that will leave tails wagging and bystanders smitten.
Spoil your furry fashionista with the Chewnel Dog Bum Bag Purse and watch them strut their stuff in style. Order yours today and let your pet experience a world of fashion and fun like never before. Don't wait to let your pup's personality shine through every outing - get ready for pawsitively fabulous adventures!
Get ready to capture the essence of canine couture with the Chewnel Dog Bum Bag Purse. Your pet will thank you for it, one stylish stroll at a time!
---