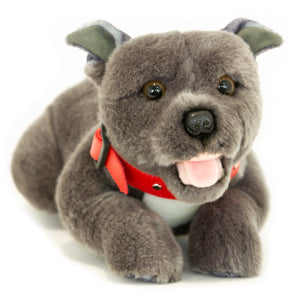 Bocchetta Plush Toys
Bullet - Blue Staffordshire Bull Terrier
Regular price
$27.00
$0.00
Unit price
per
The stuffing for Bullet was made using 6 recycled plastic bottles 🐬🐠
Bullet is an exquisitely soft and realistic handcrafted lying Blue Staffordshire Bull Terrier plush puppy toy.  They are also known as Staffies and this handmade puppy will never grow up so you will have a cuddly soft plushie to always cuddle.
Staffies are extremely active, strong, tenacious, robust, courageous, and enthusiastic.  They are also very loyal and quite protective and make the most wonderful family pet and companion and have been nicknamed "The Nanny Dog" because they are known to be so good with children.  They do need to be trained from a very young and kept occupied and exercised regularly, otherwise they can't stop themselves from becoming a little bit destructive.
Bullet measures 33cm/13″ in length, 12cm/5″ in height (to the top of his ears) and 14cm/5.5″ in width
Excellent gift for the lover of the Staffordshire Bull Terrier
A wonderful comfort toy for a small being
Excellent gift – perfect for a gift basket or as a stocking filler
Comfort therapy toy for patients with Dementia
The perfect companion for lonely seniors and residents in aged care.
Lifelike replacement for a pet that has been lost
Substitute emotional support animal providing comfort for people suffering from stress, anxiety, depression, PTSD, Autism and other mental health challenges.
Cutest puppy plush selection – collect them all
Can be brushed using a regular pet brush
Made using the highest quality acrylic fur
Machine washable using chemical/soap-free cleaning agent
Suitable for ages 3+
Shipping weight – 0.240 kg
Barcode # – 8997007501239
Part of the Bocchetta Plush Toys' "Dogs", "Staffordshire Bull Terrier (staffy)" and "Puppies" Soft Toy Collections.
---