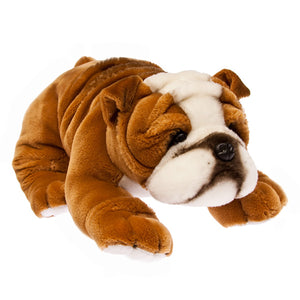 Bocchetta Plush Toys
BOSTON - BRITISH BULLDOG
Regular price
$40.00
$0.00
Unit price
per
This British Bulldog plushie measures 35cm/14″ from nose to tip of the tail and 15cm/6″ from the ground to the top of the back.
May be claimed under 0103 Assistive Products for Personal Care and Safety (Code# 03-040000919-0103-1-1) or 0112 Assistive Equipment for Recreation.
A delightful lapdog comfort toy
Excellent gift
A great option for a weighted toy or sensory toy
Comfort therapy toy for patients with Dementia
The perfect companion for lonely seniors and residents in aged care.
Lifelike replacement for a pet that has been lost
Substitute emotional support animal providing comfort for people suffering from stress, anxiety, depression, PTSD, Autism and other mental health challenges.
Made using the highest quality acrylic fur
Made using 100% recycled stuffing
Eco-friendly
Ocean-conscious
Machine washable using chemical/soap-free cleaning agent
Suitable for ages 3+
Shipping weight – 0.350 kg
Barcode # – 8997007500751
Part of the Bocchetta Plush Toys' "Dogs" and "Bulldog" Soft Toy Collections.
---