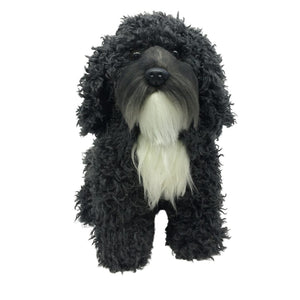 Bocchetta Plush Toys
BONNIE | BLACK OODLE / POODLE
Regular price
$36.00
$0.00
Unit price
per
The stuffing for Bonnie was made using 42 recycled plastic bottles 🐬🐠
Bonnie is a really cute Black Oodle, Poodle mix cross breed plush toy.  He is a realistic handmade cuddly Cavoodle soft toy.
'Oodles are a poodle mix crossbreed dog. They are a low shedding dog and therefore many allergy and asthma sufferers find them suitable to live with. They are a super cute and wonderful family dog and loves lots of attention, games and being taken out for walks.
Bonnie measures 29cm/11.4″ in height (including his ears), 26cm/10.2″ in length, and 18cm/7.1″ in width without tail or 23cm/19.1″ with tail.
May be claimed under 0103 Assistive Products for Personal Care and Safety (Code# 03-040000919-0103-1-1) or 0112 Assistive Equipment for Recreation.
Excellent gift for the lover of the Oodles – Labradoodle, Goldendoodle, Cockapoo, Maltipoo, Cavapoo, Bernedoodle, Aussiedoodle, Sheepadoodle, Shih-poo
Makes a great comfort aid or toy to cuddle
Can be brushed using a regular pet brush
Made using the highest quality acrylic fur
Made using 100% recycled stuffing
Eco-friendly
Ocean-conscious
Machine washable using chemical/soap-free cleaning agent
Suitable for ages 3+
---