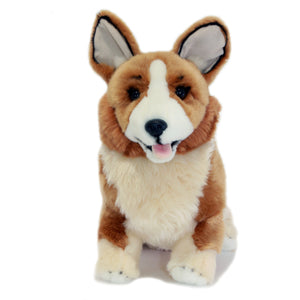 Bocchetta Plush Toys
WINDSOR | CORGI
Regular price
$34.00
$0.00
Unit price
per
The stuffing for Windsor was made using 15 recycled plastic bottles 🐬🐠
Windsor is a really cute realistic corgi plush toy.
Corgis are loved by the Royal Family.  Queen Elizabeth II has had more than 30 corgis in her lifetime.  According to the Oxford English Dictionary, "cor" means dwarf and "gi" means dog.  These short dogs were used as herders as early as the 10th century  and, according to Welsh legend, fairies used them to pull their coaches or ride them into battle.  If you look closely, you can still find fairy markings on their backs.
Windsor measures 30cm/11.8″ in height with ears or 26cm/10.2″without ears, 16cm/6.3″ in width and 33cm/13″ in length not including the tail or 36cm/14.1″ including the tail.
May be claimed under 0103 Assistive Products for Personal Care and Safety (Code# 03-040000919-0103-1-1) or 0112 Assistive Equipment for Recreation.
Excellent gift for the lover of the corgi
Wonderful comfort toy for a small being
Can be brushed using a regular pet brush
Comfort therapy toy for patients with Dementia
Perfect companion for lonely seniors and residents in aged care.
Lifelike replacement for a pet that has been lost
Substitute emotional support animal providing comfort for people suffering from stress, anxiety, depression, PTSD, Autism and other mental health challenges.
Made using highest quality acrylic fur
Made using 100% recycled stuffing
Eco-friendly
Ocean-conscious
Machine washable using chemical/soap free cleaning agent
Suitable for ages 3+
Part of the Bocchetta Plush Toys' "Corgi" and "Dogs" Soft Toy Collections.
---