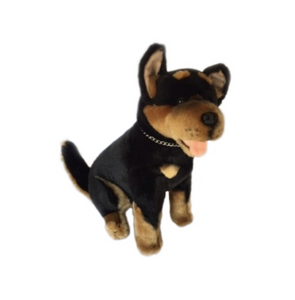 Bocchetta Plush Toys
REX | BLACK & TAN KELPIE
Regular price
$33.00
$0.00
Unit price
per
The stuffing for Rex was made using 15 recycled plastic bottles 🐬🐠
Rex is a really cute realistic medium-sized black and tan Australian Kelpie handmade and airbrushed plush toy.  Kelpies are also known as an Australian sheepdog or simply called Kelpie.
The Australian Kelpie originated in the 1800s in Australia by crossing Collie breeds from Scotland to create a working dog that could handle the harsh climate. It's rumoured some wild Dingoes were bred into our mix. I make a wonderful pet and can be used for herding livestock, search and rescue, detection, assistance work and performance dog sports.
Rex measures 28cm/11″ in height (to the top of his ears), 23cm/9″ in length without the tail or 33cm/13″ with the tail and 13cm/5″ in width
May be claimed under 0103 Assistive Products for Personal Care and Safety (Code# 03-040000919-0103-1-1) or 0112 Assistive Equipment for Recreation.
Excellent gift for the lover of the black and tan Australian kelpie
great as an educational toy for this iconic Australian working dog
Great souvenir toy
Can be brushed using a regular pet brush
Made using the highest quality acrylic fur
Machine washable using chemical/soap-free cleaning agent
Suitable for ages 3+
Made using 100% recycled stuffing
Eco-friendly
Ocean-conscious
Part of the Bocchetta Plush Toys' "Dogs", "Kelpie" and "Australian Working Dogs" Soft Toy Collections.
---