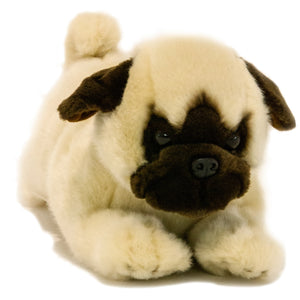 Bocchetta Plush Toys
PEPITO | FAWN PUG
Regular price
$25.00
$0.00
Unit price
per
The stuffing for Pepito was made using 8 recycled plastic bottles 🐬🐠
Pepito is a really cute realistic fawn pug puppy plush toy.  This handmade puppy will never grow up so you will have a cuddly soft plushie to always cuddle.
Pepito measures 28cm/11″ in length, 12cm/4.7″ in height and 12.5cm/5″ in width
May be claimed under 0103 Assistive Products for Personal Care and Safety (Code# 03-040000919-0103-1-1) or 0112 Assistive Equipment for Recreation.
Excellent gift for the lover of the pug – one of the oldest dog breeds
Start collecting your grumble – a group of pugs is called a Grumble
A wonderful comfort toy for a small being
Excellent gift – perfect for a gift basket or as a stocking filler
Comfort therapy toy for patients with Dementia
The perfect companion for lonely seniors and residents in aged care.
Lifelike replacement for a pet that has been lost
Substitute emotional support animals providing comfort for people suffering from stress, anxiety, depression, PTSD, Autism and other mental health challenges.
Cutest puppy plush selection – collect them all
Can be brushed using a regular pet brush
Made using highest quality acrylic fur
Made using 100% recycled stuffing
Eco-friendly
Ocean-conscious
Machine washable using chemical/soap-free cleaning agent
Suitable for ages 3+
Part of the Bocchetta Plush Toys' "Dogs", "Pugs" and "Puppies" Soft Toy Collections.
---