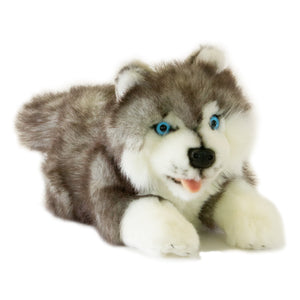 Bocchetta Plush Toys
MARBLES | HUSKY
Regular price
$26.00
$0.00
Unit price
per
Marbles is a really cute realistic handmade stuffed puppy dog toy.  Our puppy Husky will never grow up so you will have a cuddly soft plushie to always cuddle.
He is lying and measures 30cm/12″ in length from the tip of the nose to end of tail and 14cm/5.5″ in height.
Excellent gift for the lover of the Siberian Husky
Comfort therapy toy for patients with Dementia
Lifelike replacement for a pet that has been lost
Substitute emotional support animals providing comfort for people suffering from stress, anxiety, depression, PTSD, Autism and other mental health challenges.
Excellent gift – perfect for a gift basket or as a stocking filler
Cutest puppy plush selection – collect them all
Many sizes available for this beautiful gentle dog, a great must-have collection set
Can be brushed using a regular pet brush
Made using the highest quality acrylic fur
Machine washable using chemical/soap-free cleaning agent
Suitable for ages 3+
Shipping weight – 0.140 kg
Barcode – 8993462083549
Part of the Bocchetta Plush Toys' "Dog", "Huskies" and "Puppy" Soft Toy Collections.
---