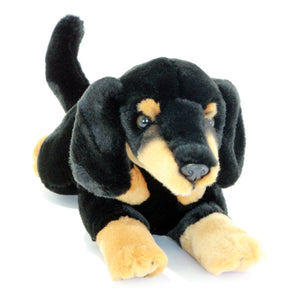 Bocchetta Plush Toys
FRANKIE | BLACK & TAN DACHSHUND
Regular price
$26.00
$0.00
Unit price
per
The stuffing for Frankie was made using 11 recycled plastic bottles 🐬🐠
Frankie is a really cute realistic black and tan dachshund puppy plush toy.
Dachshunds were bred 300 years ago in Germany to hunt badgers. The name Dachshund literally means "badger" (dachs) and "dog" (hund).  They are also called Weiner or Sausage Dogs and the actual hot dog was named after them.  The first Olympic Mascot was a Daschund.
Frankie measures 30cm/12″ in length, 13cm/5″ in height to the top of his head and 13cm/5″ in width.
May be claimed under 0103 Assistive Products for Personal Care and Safety (Code# 03-040000919-0103-1-1) or 0112 Assistive Equipment for Recreation.
Excellent gift for the lover of the dachshund lover
A wonderful comfort toy for a small being
Excellent gift – perfect for a gift basket or as a stocking filler
Cutest puppy plush selection – collect them all
Made using the highest quality acrylic fur
Made using 100% recycled stuffing
Eco-friendly
Ocean-conscious
Machine washable using chemical/soap-free cleaning agent
Suitable for ages 3+
Part of the Bocchetta Plush Toys' "Dachshund", "Puppies" and "Dogs" Soft Toy Collections.
---