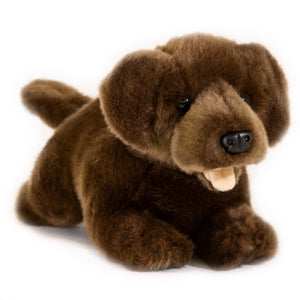 Bocchetta Plush Toys
Coco - Chocolate Labrador
Regular price
$25.00
$0.00
Unit price
per
Coco is an exquisitely soft and realistic handcrafted chocolate labrador plush toy puppy.
Labradors make great therapy dogs, service & guide dogs, gun dogs for retrieving birds, search & rescue dogs & family pets.  They have an "otter-like" tail for propelling through water, webbed paws like flippers for swimming, a layered, oily coat to keep them insulated and repel water, a "soft mouth" to gently carry things (with training) without causing damage, and a great capacity to learn.
Coco measures 31cm/12″ from nose to tip of the back feet and 16cm/6″ from the ground to the top of the head.
May be claimed under 0103 Assistive Products for Personal Care and Safety (Code# 03-040000919-0103-1-1) or 0112 Assistive Equipment for Recreation.
Perfect gift for lovers of Labradors
Lifelike replacement for a pet that has been lost
Cutest puppy plush selection – collect them all
Substitute emotional support animal providing comfort for people suffering from stress, anxiety, depression, PTSD, Autism and other mental health challenges
Made using the highest quality acrylic fur
Machine washable using chemical/soap-free cleaning agent
Suitable for ages 3+
Shipping weight – 0.13 kg
Barcode # – 8993462119422
Part of the Bocchetta Plush Toys' "Dogs", "Labradors" and "Puppies" soft toy collections.
---