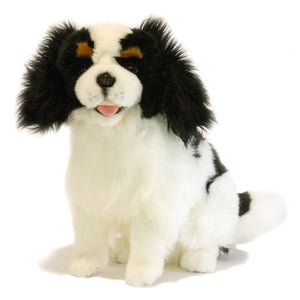 Bocchetta Plush Toys
CHESTER - TRI-COLOUR CAVALIER King Charles SPANIEL
Regular price
$44.00
$0.00
Unit price
per
The stuffing for Chester was made using 25 recycled plastic bottles 🐬🐠
Chester is a realistic plush dog toy in a sitting position. Silky beautiful soft and loveable cuddly stuffed Cavalier King Charles Spaniel toy.
We were originally bred to warm laps in drafty castles and on chilly carriage rides.  One of my ancestors was prescribed to sit on the lap of the Queen of England to treat her cold. We have also been used to attract fleas to spare our human parents from the bubonic plague.  I am the ideal family dog because I am calm, affectionate, playful, and intelligent but I do need regular exercise and grooming.
Chester measures 42cm/17″ from nose to the tip of the tail or 30cm/12″ not including tail, and 32cm/13″ from the ground to the top of her head.
May be claimed under 0103 Assistive Products for Personal Care and Safety (Code# 03-040000919-0103-1-1) or 0112 Assistive Equipment for Recreation.
The perfect cuddly toy
Delightful lap dog comfort toy
Excellent gift
Comfort therapy toy for patients with Dementia
The perfect companion for lonely seniors and residents in aged care.
Lifelike replacement for a pet that has been lost
Substitute emotional support animal providing comfort for people suffering from stress, anxiety, depression, PTSD, Autism and other mental health challenges.
Made using the highest quality acrylic fur
Made using 100% recycled stuffing
Eco-friendly
Ocean-conscious
Machine washable using chemical/soap-free cleaning agent
Suitable for ages 3+
Part of the Bocchetta Plush Toys' "Dogs" and "King Charles Cavaliers" Soft Toy Collections.
---