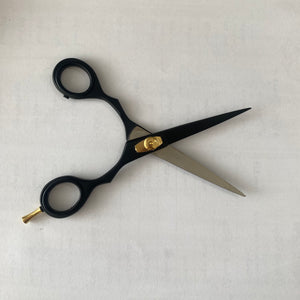 AADB Grooming
6: STRAIGHTS | BLACK / GOLD
Regular price
$53.00
$0.00
Unit price
per
The straight dog grooming scissors come in a variety of sizes from very small to very long. The smaller sized dog grooming scissors are used best on feet, ear edges, around the eyes and other area that require small hairs to be removed. 
The medium scissor blade lengths are the most popular scissor side, mainly because these lengths are very useful for shaping and finishing. In addition, they do not remove too much hair at once therefore making them the most popular with the more nervous dog groomers.
The long scissor blades come in wide or slim blade widths. The wide blade are excellent for removing bulk coat and will add a fine finish. Their disadvantage is that they be a heavy scissor and some dog groomers find them too rigid. This a personal point and does depend on the dog groomer themselves. The slim blades can add shape, however, they are better used for adding a first or second finish on the coat.
Some dog groomers find that the long blades cause folding at the hair tips. This occurs because the dog groomer applies too much pressure at the handle. This forces the blade tips apart. To demonstrate this, get two long rulers and place one on top of the other. If you squeeze them together at one end, you will notice that the other end opens up. The same applies to the narrow, long-bladed scissors if too much pressure is applied at the handles. To avoid this, use them lightly with correct thumb action.
---